Thanks to the British kitchen godess Nigella Lawson I discovered za'atar. It is an oriental spice mix made of dried thyme, roasted sesame seeds and purple sumac. In her cookbook "Forever Summer" Nigella gives us the recipe for Za'atar Chicken with Fattoush. Every time I make this crispy chicken a delicious aroma invades my kitchen. And the salad is just the right mix with the crispy pita, the fresh mint and the juicy cucumbers and tomatoes.
So even if you have to buy za'atar don't hesitate, it will be gone before you know it, because this is a dish you will want to make again.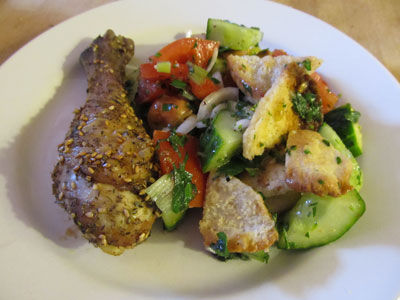 Ingredients for 4 persons:
2 chicken thighs and 2 drumsticks

4 chicken wings

3 tablespoons of za'atar
2 pita breads

3 scallions, halved and sliced

1 cuccumber, peeled, quartered and chopped
3 tomatoes, diced

1 bunch of flat parsley, chopped
1 bunch of fresh mint, chopped
1 clove garlic, minced
6-7 tablespoons of olive oil

juice of 1 lemon

1/2 teaspoon of sumac
salt, pepper
• Put he chicken pieces into a plastic bag. Mix the za'atar with a pinch of salt and 3 tablespoons of olive oil. Pour the oil-spice mixture into the plastic bag. Tumble the chicken pieces around, knead a little bit, until they are evenly covered. Close the plastic bag and let the chicken marinare in the fridge a day or two.
• Preheat the oven to 425°C.
• Transfer the chicken into a pan, making shure all the pieces are skin side up. Roast them in the oven for about 45 minutes
• When the chicken is nearly done, prepare the fattoush. Cut the pita bread open lenghtways, so that you have four thin halves and toast them in the oven a piece of baking sheet beside the pan with the chicken for about five minutes. Then take them out and leave them somewhere to cool.
• In a salad bowl combine the scallions, cucumber, tomatoes, pasley, mint and garlic. With a pair of kitchen scissors, cut the pit into rough triangles. Add them to the salad. Toss the salad, then dress it with the olive oil, lemon juice and a pinch of salt. Sprinkle over the sumac and serve alongside the za'atar crispy chicken.