Inspired by the novel "You Gotta Have Balls" I decided to treat myself and my husband to pasta with meatballs. It was raining cats and dogs so it was a perfect time for some good old fashioned comfort food. I followed a recipe by Jamie Oliver and as usual it turned out great.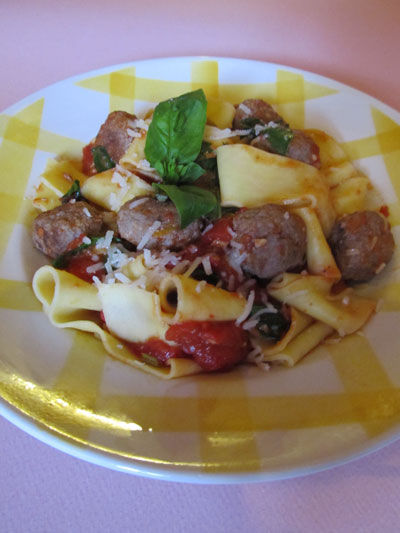 Ingredients for 2 persons :
300 gr of fresh papardelle
For the meatballs
225 gr of minced meat
1-2 chilis, crushed
1 pinch of cinnamon
1 garlic glove, crushed
1 egg
2 tablespoon of grated parmesan
zest of 1/2 a lemon
salt, pepper
For the tomato sauce
1 garlic glove, crushed
1 bunch of basil, the stalks chopped finely, the leaves torn into big pieces
1 fresh chili, leave it whole but pierce it several times
400 gr tomatoes
1 teaspoon of red wine vinegar
2 tablespoons of olive oil
salt, pepper
• Combine all the meatball ingredients in a bowl. With your hands make small balls. From time to time wash your hands with cold water, so that the balls don't stick. Put the balls on a plate, cover and put it in the fridge.
• To prepare the tomato sauce, pour 1 tablespoon of olive oil in a pan, heat it at medium heat, add the basil stalks, the garlic, the whole fresh chili, then the tomatoes and the vinegar. Season the sauce and leave it to simmer for 1/2 hour. Then remove the fresh chili, it has given enough taste. You can also make the sauce without chili, if you don't like it hot.
• Fry the meatballs in a pan with 1 tablespoon of olive oil.
• Add the meatballs to the sauce and let it simmer together for 10-15 min.
• Heat salted water for the pasta. Cook the papardelle. When they are al dente drain them.
• Add the basil leaves to the sauce. Mix with the papardelle. Serve with freshly grated parmesan.