I long to travel and instead of working I often find myself searching on the Internet for travel sites. For my next big trip I want to go to India, it is an old dream of mine. But I have to be patient and need to wait until I have accumulated enough holidays.

Until then I do what I can and I recreate the spirit of India in my kitchen. I followed a recipe from the chef David Tanis, who is famous for his seasonal, straightforward dishes, that are bursting with flavour. To marinate the fish I had to grind some spices and then I already knew that it would taste great, because it smelled wonderful.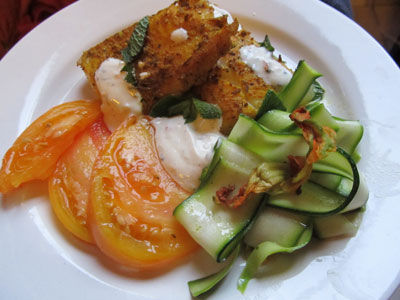 For 6:
For the indian fish: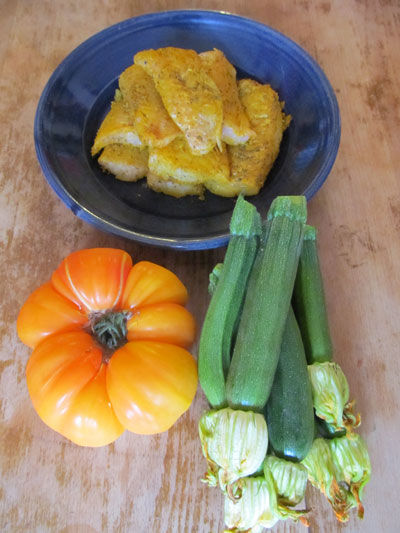 6 halibut filets
1 teaspooon cumin seeds
1 teaspoon coriander seeds
1 teaspoons fennel seeds
3 cloves
1/2 tablespoon turmeric
1/4 teaspoon cayenne
satl, pepper
1 talespoons olive oil
For the raita:
350 gr yogurt
1 tablespoons olive oil
1 teaspoon mustard seeds
1 teaspoons cumin seeds
2 garlic cloves, finely minced
1 teaspoon grated ginger
1/2 fresh chili, chopped
For the salads:
1 beautiful tomato! (see picture), 7 small zucchini, 1/2 bunch of mint, 1/2 lemon, 1-2 tablespoons olive oil
• Prepare the marinade for the fish: In a dry pan toast the cumin, the coriander, the fennel and the cloves, heat until you can smell the spices, about 2 minutes. In a mortar grind the spices fine then put them in a little bowl and add the turmeric and the cayenne.
• Lay the halibut on a baking sheet, season with salt and pepper and drizzle with the olive oil. Sprinkle the spice mix over the fish, then massage it in. The fish filets should be nicely covered. Put the fish filets in a bowl, cover it and put it in the fridge for a few hours. Bring the fish to room temperature before cooking.
• Prepare the raita: Pour the yogurt in a bowl. In a dry pan heat the olive oil over medium heat, add the mustard and cumin seeds. When the seeds begin to pop, add the garlic and let it sizzle, without browning, about 10 seconds. Add the spices to the yogurt, stir in the ginger and the chili. Season to taste.
• Prepare the salad at the last minute. Cut the zucchini with a mandoline lengthwise into very thin slices. Make a vinaigrette with the olive oil, the lemon juice, salt and pepper. Cut the tomato into slices. Tear the blossoms (petals only) into strips.
• I don't have a grill so I baked the fish in a hot oven. Preheat the oven to 200°C. Bake the fish filets for 6-8 minutes.
• Season the zucchini slightly with salt and pepper. Add the dressing, toss gently. Scatter the blossoms over the salad. Sprinkle the tomaoes with salt. Serve the fish with the raita, scatter mint leaves over every plate.