You can travel by taking an air plane, a bus, your car, the train... or by opening Madhur Jaffreys cookbook "Curry, Curry, Curry". She has compiled more than 200 curry recipes from all around the world. This time I decided to go to Thailand to try out the Thai Pork Satay. It was absolutely delicious, even though I had to do it without coriander root as I couldn' t find any. It makes a good starter or a meal if you serve it with some rice on the side. But I have to warn you the peanut dip is addictive.
For 4:
Marinade Ingredients: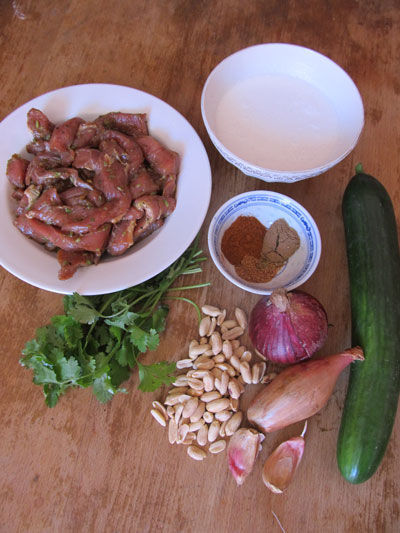 4 tablespoons soy sauce
2 tablespoons coconut milk
(8 fresh coriander roots, chopped)

2 garlic cloves, chopped
2 teaspoons of sugar
1/2 teaspoon of curry powder
1 teaspoon of white pepper
450 pork filet, cut in strips
Dip ingredients:
50 gr of shallot, chopped
3 garlic cloves
1/4 teaspoon cumin
1 teaspoon coriander powder
1 teaspoon cayenne pepper
1 tablespoon paprika powder
1 tablespoon peanut oil
175 ml coconut milk
4 tablespoon of roasted peanuts, chopped
2 teaspoons of brown sugar
1/2 teaspoon of salt
To finish: 250 ml coconut milk, 2 teaspoons of curry powder and a pinch of salt

• Prepare the marinade: Mix in a blender the soy sauce, the coconut milk, the coriander roots and the garlic. Add the sugar, the curry powder and the white pepper. Combine well, add the pork filet and let it marinate, covered, in the fridge 2-24 hours.
• Prepare the dip: Mix the shallot and the garlic with 2 tablespoons of water in order to obtain a paste. Put it in a small bowl, add the cumin, the coriander powder, the cayenne pepper and the paprika. Heat the oil in a pan, add the spice mixture and let it brown 3-4 minutes while stirring. Add the coconut milk, the peanuts, the sugar and the salt. Stir the sauce 3-5 minutes until it thickens a little bit.
• Combine in a bowl the coconut milk, the curry powder and the salt.
• Dip the pork strips into the coconut milk/curry mixture before putting them on a skewer and grilling them in a hot pan or on a grill. Serve with the dip.
Submitting this to:
Flavours of Thailand, event by simply.food guest Hosted by Reva