My relationship with pasta salad had a rough start. The first time a pasta salad crossed my path was at a student party, the pasta was way beyond all-dente and drenched in store bought mayonnaise, the few defrosted peas that were added to this mix couldn't save it. Well, I drank a lot of beer that night.
For a long time I didn't want to have anything to do with pasta salads but then I met Jamie Oliver, or rather his so called "Best Pasta Salad". What can I say it was love at first sight and I have never looked back! I changed the recipe a little but come on we all do it even with THE ONE.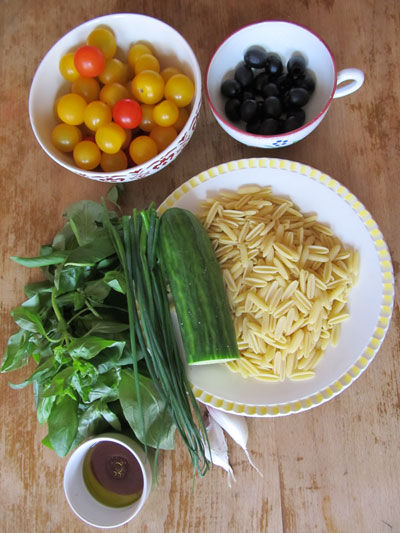 For 4:
300 gr small pasta
2 cloves of garlic, crushed

500 gr cherry tomatoes, diced
1 handful of black olives, pitted

1/2 bunch fresh chives, chopped

1 bunch of fresh basil, chopped

1/2 of a cucumber, diced

2 tablespoons white or red wine vinegar

4 tablespoons olive oil
salt and pepper


• In a large pan bring salted water to boil. Cook the pasta al dente. Drain and run under cold water.

• Put the tomatoes, the cucumber, the garlic and the herbs in a bowl. Add the cooled pasta, the olive oil and the vinegar. Season to taste.

• Jamie Oliver uses a little bit more olive oil and vinegar and boils the garlic with the pasta.