Whenever I travelled abroad I ended up buying some local specialty only to discover that at home the great espresso doesn't taste as good as in Rome. But to every rule there is thank God an exception. Last summer I spend with my husband a week in the Valley du Lot in France. It is famous for its red wine but also for its saffron. The guy who sold saffron at a market convinced us of the quality of its product by offering us some home made and really delicious saffron biscuits, so I bought two jars.
When I use some of this saffron I am always indulging in a bit of holiday nostalgia. This time I made risotto milanese but I added yellow tomatoes and some king prawns.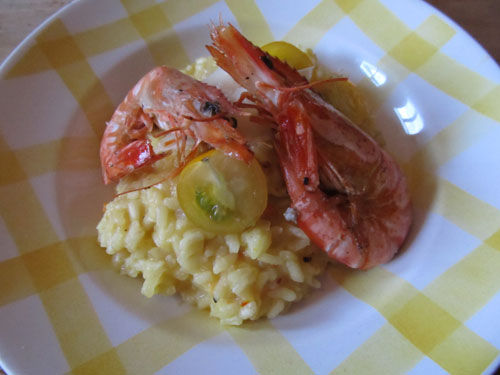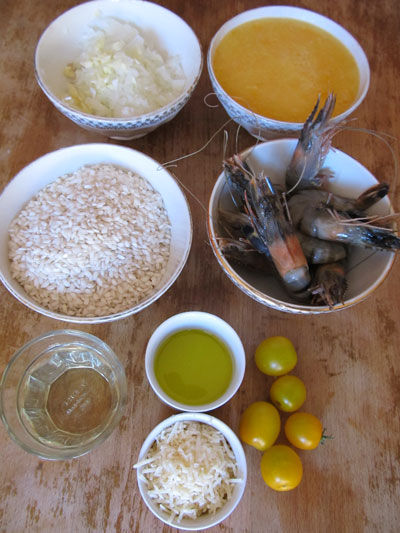 For 4:
350 gr arborio risotto rice
1 onion, diced
2 garlic cloves, diced
1 glass of white wine
4-6 yellow tomatoes, peeled, seeded and pureed

800 ml chicken stock
2 pinches of saffron threads

8 king prawns
a few yellow cherry tomatoes, cut in halves

1 generous handful grated parmesan
3 tbsp olive oil
salt, pepper
• Pour chicken broth and 500 ml tomato puree in a small saucepan. Heat it and add the saffron, keep it warm.
• In a casserole heat 2 tbsp olive oil, add the onion and the garlic and cook at medium heat for 2 min. Stir in the rice to coat with the oil. Add the white wine and cook until slightly evaporated.

• Stir in a couple ladlefuls of the warm tomato broth, stir regularly to prevent from sticking. Once the liquid is nearly completely absorbed, add again a few ladlefuls of the warm tomato broth. You want the risotto to be tender and creamy, it will take 15-20 minutes and normally you will use all of the tomato broth.

• When the risotto is nearly done, heat 1 tbsp olive oil in a pan and grill the king prawns at high heat, 2-3 minutes on each side. Season to taste.

• Stir the parmesan into the risotto. Season to taste. Put the risotto on the plates, arrange the king prawns and the cherry tomatoes on top of it, add some parmesan shavings and some fresh pepper.