June was cold and rainy and I begged for summer, so now that I am sweating because of a heat wave, I cannot really complain. You can imagine how difficult that is. So I decided to make the best of it and to put my ice cream machine that was starting to collect some dust to good use and I made some pineapple rosemary sorbet.
Now I know it does sound strange at the beginning but it is a recipe from Kate Zuckerman and when it comes to any dessert I trust her blind. So I followed her instructions and was rewarded with a refreshing and sweet pineapple sorbet with a subtle undertone of rosemary. After looking suspicious my guests asked for more.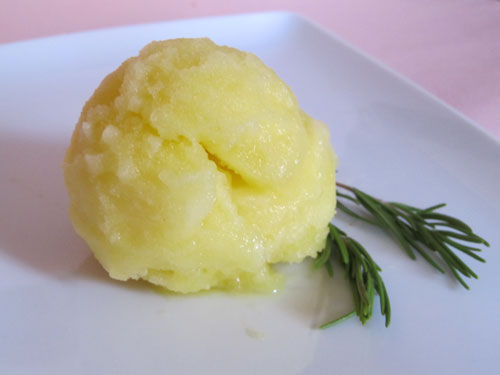 For 6:
1 kilo of fresh pineapple, peeled, cut in half and then in slices

2 small stalks of fresh rosemary

220 gr sugar

330 ml water

juice of 1 lime

• Put the water, the sugar and the pineapple slices in a saucepan. Bring to a simmer and cook for 5 minutes. Add the rosemary and remove from the heat. The rosemary needs to be submerged in the liquid, cover the pan and set aside for 10 minutes.
• Remove and discard the rosemary. Puree half of the pineapple with some cooking syrup in a blender to a puree on the highest speed for 2 minutes. Repeat the process with the remaining pineapple and cooking syrup.

• Pass the pureed pineapple through a fine-mesh strainer into a bowl, pushing the fruit puree through the strainer with the back of a spoon. Discard the pulp. Add the lime juice to the pineapple puree, cover it and chill it in the refrigerator for at least 1 hour or up to 2 days.

• Churn the sorbet in an icecream machine. Transfer to the freezer for 4 hours.
• Take the sorbet out of the freezer 5 minutes before serving so that it has a good scoopable consistency.