When I go to a restaurant I always ponder for hours over the menu, trying to make my mind up. On our honeymoon we went to Rome and once we ate in a perfect restaurant, the food was great but most of all the waiter only asked us one question: red or white wine? Then the dishes just kept on coming, heaven! Speaking of Italy, I was trying to decide which antipasti to make and finally I had an Eureka Moment: Why choose? I will just make a salad of grilled vegetables, rocket, prosciutto, parmesan, basil and pine nuts. Well, if you ask me this salad is like an anthem of Bella Italia!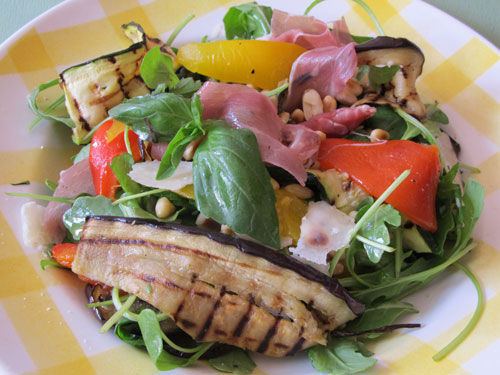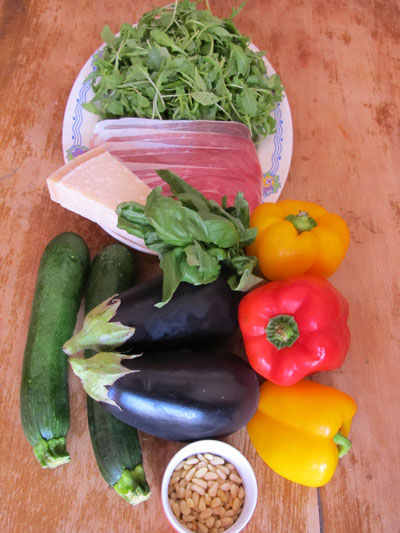 For 4-6:
For the salad
150 gr rocket
2 eggplants, cut in thin slices
2 zucchini, cut in thin slices
2-3 peppers
1 bunch fresh basil, chopped
60 gr pine nuts
6 slices of prosciutto
a handful of parmesan shards
6 tbsp of olive oil
For the vinaigrette
6 tbsp of olive oil
3 tbsp of balsamic vinegar
2 garlic cloves, crushed
salt, pepper
• Preheat the oven to 200°C.
• Roast the peppers in the oven for 30 miuntes. After 15 minutes turn them over once.
• Brush the eggplant slices on both sides with olive oil, then fry them in a pan. Repeat the process with the zucchini slices.
• Take a look at the peppers, if the skin is a little bit black and blistered it is perfect. Turn the oven off but leave the peppers inside for another 10 minutes.
• Peel the peppers. Discard the skin and the seeds.
• Roast the pine nuts in a pan without any grease. Don't leave the pan out of your sight, pine nuts turn black very quickly.
• In a salad bowl mix the grilled eggplant and zucchini slices, the rocket, the pepper filets, the prosciutto and the basil. Dress the salad with the vinaigrette. Scatter the parmesan shards and the pine nuts over the salad and enjoy!