Rachael of pizzarossa was our August 2012 Daring Cook hostess and she challenged us to broaden our knowledge of cornmeal! Rachael provided us with some amazing recipes and encouraged us to hunt down other cornmeal recipes that we'd never tried before – opening our eyes to literally 100s of cuisines and 1000s of new-to-us recipes! I chose to make a Chicken with Cornmeal-Herb-Crust and Summer Salad.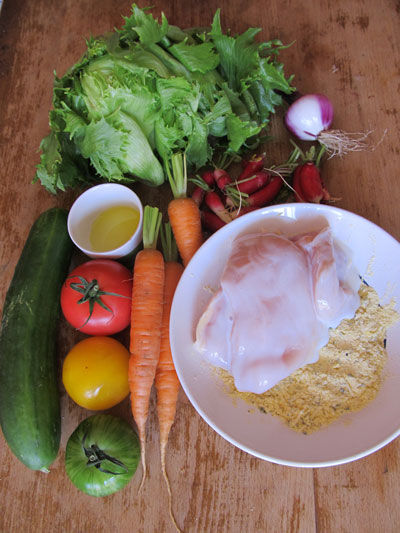 For 2:
For the crispy chicken
2 chicken breasts
200 ml buttermilk
2 tbsp olive oil
60 gr cornmeal
1 tsp lemon zest
1 tbsp chopped thyme
3 tbsp grated parmesan
1 garlic clove, crushed
For the salad

3 carrots, peeled
1/2 lettuce
3 tomatoes, cut in quarters
1 handful of radishes
1 cucumber, sliced

1-2 spring onions, cut in thin slices
For the vinaigrette
3 tbsp of olive oil, juice of 1/2 lemon, 1 tbsp of balsamic vinegar, 1 crushed garlic clove, salt, pepper
• Put the chicken breasts in a freezing bag, add the buttermilk and let it marinate overnight in the refrigerator.
• Preheat the oven to 180°C.
• In a soup plate combine the cornmeal, the lemon zest, the thyme, the parmesan and the garlic. Season to taste. Take the chicken breasts out of the marinade and coat them with the cornmeal mixture. They should be well covered. Cover a plate with some baking paper, place the coated chicken breasts on the baking paper. Drip the olive oil on the chicken breasts and grill them in the oven for 45-50 minutes.
• Mix all the ingredients of the vinaigrette. Put the salad leaves, the radishes, the carrots, the tomatoes, the cucumber and the spring onion in a salad bowl. Dress the salad and serve it with the crispy and tender chicken.