Our Daring Cooks' September 2012 hostess was Inma of la Galletika. Inma brought us a taste of Spain and challenged us to make our very own delicious Paella! I made a paella with squid ink, squids and shrimps. I found the recipe in the amazing cookbook "A platter of Figs" from David Tanis. It doesn't look very tempting but it is delicious and the smell coming out of your oven just before it is done will make your mouth water!
For 6-8:
3 tbsp of olive oil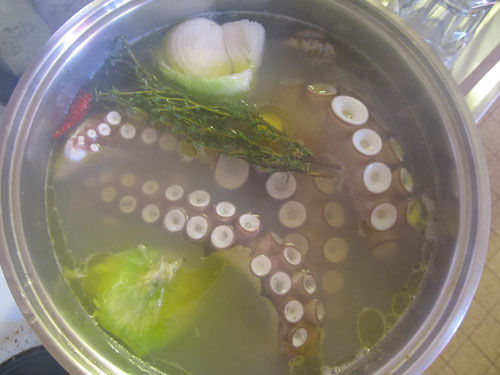 500 gr shrimp in a shell

1 large onion, chopped

500 gr cleaned squid, bodies cut into thin rings, tentacles chopped

a pinch of saffron

1/4 tsp of cayenne pepper

125 ml tomato puree
4 garlic cloves, smashed

1 tbsp of squid ink

720 gr of arborio rice

1500 ml of octopus broth or light chicken stock

• Preheat the oven to 180°C.
• Heat the olive oil in a paella pan or another big pan. Add the shrimp, season with salt and pepper, cook for about 1-2 min until the shrimps turn pink. Remove the shrimps and set aside.

• Add the onion to the pan and cook for about 5 min. Add the squid, season with salt and pepper, cook for about 2 min. Add the saffron, cayenne, tomato, garlic, squid ink and the rice. Stir well to coat the rice. Add a large pinch of salt and the broth. Let the broth come to a full simmer. Let it simmer for about 5 min.

• Arrange the shrimp on top and put the pan in the oven. Bake uncovered for 20 min. Remove and cover the pan with a clean dish towel. Let the paella rest for about 10 min. It tastes better just slightly warm.